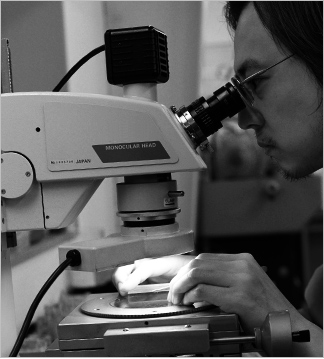 Our techniques/products and industry focus
We specialize in lathe machining of bars composed of various materials, such as metal and resin, with diameters ranging from 0.05 to 20 mm (For more information). Machining is possible from a minimum external diameter of ϕ0.03 mm, and drilling from ϕ0.05 mm.
Electronic parts
Our main line of products comprises probe pins used for semiconductor inspection devices that require ultra-fine precision techniques. Orders of low- to high-volume lot sizes (100 to 1,000,000 pieces) are available within a short turnaround time. We also produce various kinds of connector other than test probe pins. Please also consult us regarding orders requiring heat treatment and surface finishing.
Automotive and hydraulic components
We also specialize in manufacturing many key automotive components which involve complicated machining and difficult-to-machine materials - parts which must ensure safety above all.
Medical device components
Our specialist techniques are essential to produce many medical devices, such as hearing aids, dental equipment, endoscopes, and ultra-fine nozzles.